Description
Eventide ModFactor Modulation Multi-Effect Pedal
All the standards - Chorus, Flanger, Phaser as well as Rotary, Tremolo, and Vibrato are there. Also included is the unique Undulator effect from the H8000 and a RingMod that lands somewhere between ring modulation and synthesis. The dedicated SLOW/FAST footswitch for ramping the LFO rate comes in handy. LFO rates can also sync to Tap Tempo and MIDI clock.
Features
Modulate your Modulator: Two LFOs create rich expressive modulation effects.
100 Presets
Studio Quality Sound
Instant Program Change
Real-time control with 10 knobs, MIDI or expression pedal
Tap Tempo and MIDI Clock Sync/Generate
True Analog Bypass
Rugged cast metal construction
Metal footswitches for instant Preset access
Mono or Stereo operation
Guitar or Line Level Inputs and Outputs
H9 Control
The H9 Control app provides remote control access of all Eventide effects pedals. With H9 Control, you can manage parameters, presets and settings with an easy to use interface. Get instant access to over 500 presets that push the boundaries of delay, reverb, pitch-shifting, modulation, distortion and more. H9 Control is available on Android, iOS, Mac and PC.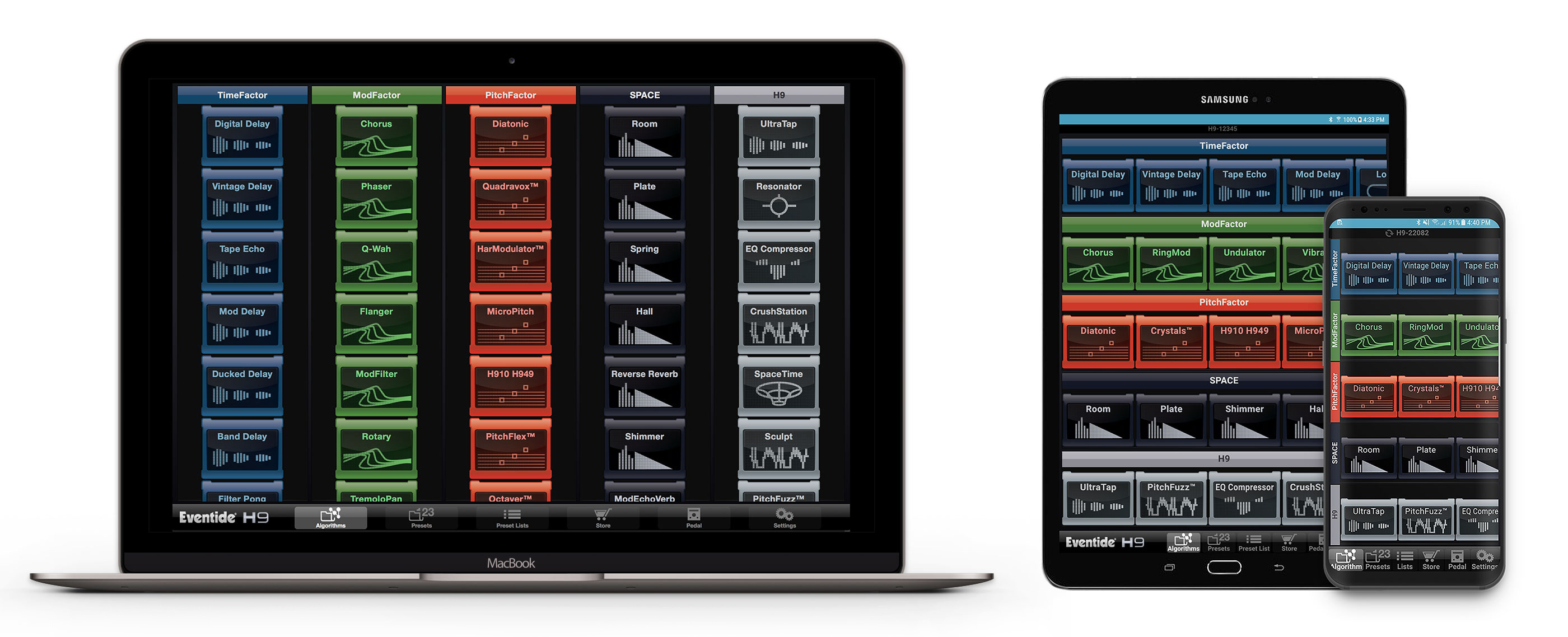 Signature Chorus and Modulation
ModFactor includes the following Eventide signature stereo or mono effects:
Phaser

Negative Phaser
Postive Phaser
BiPhase Phaser
Feedback Phaser
PhaseX0 Phaser

Chorus

Liquid Chorus
Shimmer Chorus
Organic Chorus
Classic Chorus

Wah

WahWah Q-Wah
Voc-Wah Q-Wah
Bass Wah
Bass Vocal Wah

Flanger

Positive Flanger
Negative Flanger
Jet Flanger
Thru Zero Flanger

ModFilter

Lowpass ModFilter
HiPass ModFilter
BandPass ModFilter

Vibrato

Modern Vibrato
Vintage Vibrato
Retro Vibrato

Rotary

Standard Rotary
Giant Rotary

Tremolo

Bias Tremolo
Opto Tremolo

Undulator

Pitch Undulator
Feedback Undulator

Ring modulator

Ring (DC) Ringmod
String (AC) Ringmod
Delivery & Returns
Shipping Policy
 
Free Shipping- Most orders $50.00 and over ordered from themusicden.com SHIP FOR FREE, but there are two exceptions: Orders that are being shipped to a location that is not in the lower 48 United States will NOT ship for free. Also items marked as "Oversized" will NOT ship free. Those orders will ship using our Standard Shipping rate.
 
Standard Shipping- This is the default shipping method for orders shipping to a US state that is not in the lower 48, such as Hawaii or Alaska, Puerto Rico, or an APO/AE order. Whether an order is shipped USPS or UPS is at The Music Den's discretion depending on what the situation may require.
Orders made through www.themusicden.com will only ship to United States. We are unable to ship internationally.
It may take one to two business days to process an order before it is actually shipped out.
Shipping costs will not be refunded for returns. The buyer must assume all shipping costs when returning an item.
 
School Servicing- Items will be delivered to the school on our next scheduled weekly visit.
 
In-Store Pickups- You can choose to pick items up at our Randolph Store. Please call ahead to make sure that your item is at the store before coming to pick it up. Be prepared to present identification and the purchasing credit card during pickup.
 
Curbside Pickups- Between 10am-5pm, Monday-Friday, you can choose to pick items up at our Randolph Store and have them brought out to you. Please wait for a confirmation email that your item is ready to be picked up. When you arrive you can call the store at 973-927-5800. Be prepared to present identification and the purchasing credit card during pickup.

30 Day Easy Return Guarantee
 
The Music Den wants you to be fully satisfied with your purchase. The Music Den has a cash back return policy for all online returns 30 days from the date of sale. (Note: This does not apply to Reverb. Please see Reverb for their specific policies. For In-store purchases please refer to your receipt.) Please read the items below carefully to ensure that your Item Return is done correctly.
To return an item purchased online from www.themusicden.com, you must notify The Music Den within 30 days from the date of the sale to receive an RA#.
All returns must have an RA# (Return Authorization Number). To receive an RA#, Please call 1-800-479-1189 or click here to send us an email. Do not forget to mention your customer number and order number so that we can expedite your request.
All Returns must be received by the Music Den within 10 days of the day you received the RA#.
All shipping costs are the responsibility of the customer and are non-refundable.
The following items cannot be returned: Sheet Music, Books, Reeds, Strings, Harmonicas, Microphones, Clothing, CD's, Videos, DVD's, and Software.
Returned items must be in their original condition and packaging. Returned items not in their original condition will be charged a 15% restocking fee.
Special orders can only be returned at the discretion of a Store Manager with a restocking fee added. All deposits on special orders are non-refundable.
When you ship your item, make sure that your RA# is printed clearly on the outside of the package.
Ship the item to:
The Music Den
1030 Route 10 West
Randolph, NJ 07869
For answers to any questions about our return policy, please call 1-800-479-1189 or click here to send us an email.