Description
Phil Jones Bass PE-5 Preamp and Direct Box Pedal
5 Band EQ Pre-Amp, Direct Box, & Signal Booster

The PE-5 is a pedal designed for bass guitar and upright bass which incorporates a sophisticated 5 band EQ and also offers superior function as a Pre-Amp, Direct Box, and signal booster.
The PE-5 is engineered with a unique switchable input impedance which allows the pedal to match exactly to either a magnetic or piezo pickup. It achieves the full band spectrum for either pickup source. In addition it is a signal booster which compensates for low output pickups and will also provide ample drive for any amplifier. The input level and gain controls are designed to precisely match the pickup output to an amplifier.The line output is strong enough to use directly into a power amplifier or a powered speaker.
The 5-band EQ is a high precision equalizer which means that each boost or cut level is identical to each adjacent band. Plus the Q factor of each band is identical. This makes it far easier for the player to accomplish the tone that they are pursuing. These frequency bands were carefully chosen for the voice of a bass so that the user will be able to adjust the EQ rapidly to get the desired sound.
The DI output is of the highest audio quality obtainable providing a match to even the finest recording studio mixing consoles and live sound systems. It has extremely high signal to noise ratio and features a ground lift switch to eliminate the possibility of "Mains Hum".
The PE5 can be powered by a standard 9-volt DC pedal adaptor or run on its own internal lithium-ion battery that is charged with a standard cell phone charger via its USB socket.
The two foot switches provide a mute function and a true bypass. The rugged housing is constructed of die cast aluminum alloy made to deliver years of service.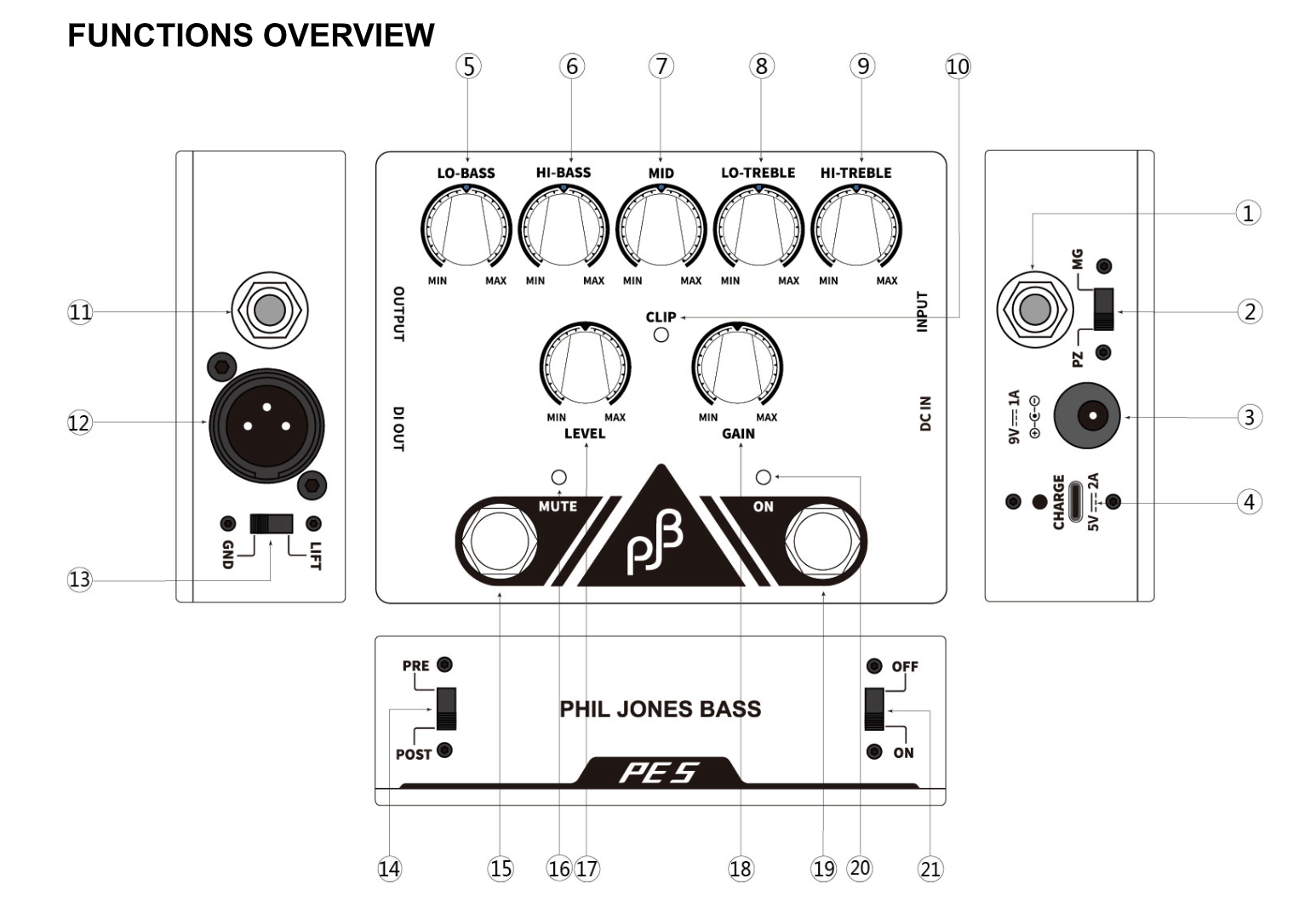 1) 1/4" INPUT JACK – The input jack accepts an unbalanced signal from your bass via a standard 1/4" instrument cable.
2) INPUT IMPEDANCE
3) DC IN – External power supply connection 9VDC / 1A
4) USB TYPE-C-For Inner Li-Battery Charge
5) LOW-BASS EQ CONTROL – This will adjust the fundamental tones of E and A strings on 4 string basses and B,E & A on 5 string basses.
6) HIGH BASS EQ CONTROL-This will adjust the fundamental tones of D and G-strings on 4 & 5 string basses.
7) MID RANGE EQ CONTROL –
8) LOW TEBLE EQ CONTROL-
9) HIGH TREBLE (PRESCENCE) EQ CONTROL–
10) OVERLOAD INDICATOR
11) 1/4" OUTPUT JACK – This output can be connected to power amp, powered cabinet and unbalanced input of other devices via a standard 1/4" instrument cable.
12) BALANCED LINE OUT XLR SOCKET –This is a low impedance (200Ω) balanced line out for use with recording or PA mixing consoles. This output is not controlled by the volume control.
Changing the level on your instrument will however, vary the DI output.
13) GROUND /LIFT BALANCED LINE OUT-This allows the grounding of balanced out socket to be disconnected. This is useful if you are experiencing hum caused by grounding loops/problems.
14) PRE/POST EQ BALANCED LINE OUT- The output can be either direct from the source or via the EQ circuit.
15) MUTE SWITCH- To cut the sound off from the instrument.
16) MUTE INDICATOR- To show that you have muted the instrument.
17) OUTPUT LEVEL CONTROL- Can adjust the volume or match the outpu t to an amplifier/mixer.
18) INPUT GAIN CONTROL- Allows the matching to weak or strong pickups.
19) ON SWITCH- turns the preamp on and off and bypasses the signal direct; the LED indicator is green when the EQ is on. The LED indicator is red when the EQ is bypassed.
20) EFFECT ON/POWER ON INDICATOR- Shows when the EQ is ON.
21) POWER SWITCH- Switches the EQ on or OFF. In off mode the EQ is bypassed.
Delivery & Returns
Shipping Policy
 
Free Shipping- Most orders $50.00 and over ordered from themusicden.com SHIP FOR FREE, but there are two exceptions: Orders that are being shipped to a location that is not in the lower 48 United States will NOT ship for free. Also items marked as "Oversized" will NOT ship free. Those orders will ship using our Standard Shipping rate.
 
Standard Shipping- This is the default shipping method for orders shipping to a US state that is not in the lower 48, such as Hawaii or Alaska, Puerto Rico, or an APO/AE order. Whether an order is shipped USPS or UPS is at The Music Den's discretion depending on what the situation may require.
Orders made through www.themusicden.com will only ship to United States. We are unable to ship internationally.
It may take one to two business days to process an order before it is actually shipped out.
Shipping costs will not be refunded for returns. The buyer must assume all shipping costs when returning an item.
 
School Servicing- Items will be delivered to the school on our next scheduled weekly visit.
 
In-Store Pickups- You can choose to pick items up at our Randolph Store. Please call ahead to make sure that your item is at the store before coming to pick it up. Be prepared to present identification and the purchasing credit card during pickup.
 
Curbside Pickups- Between 10am-5pm, Monday-Friday, you can choose to pick items up at our Randolph Store and have them brought out to you. Please wait for a confirmation email that your item is ready to be picked up. When you arrive you can call the store at 973-927-5800. Be prepared to present identification and the purchasing credit card during pickup.

30 Day Easy Return Guarantee
 
The Music Den wants you to be fully satisfied with your purchase. The Music Den has a cash back return policy for all online returns 30 days from the date of sale. (Note: This does not apply to Reverb. Please see Reverb for their specific policies. For In-store purchases please refer to your receipt.) Please read the items below carefully to ensure that your Item Return is done correctly.
To return an item purchased online from www.themusicden.com, you must notify The Music Den within 30 days from the date of the sale to receive an RA#.
All returns must have an RA# (Return Authorization Number). To receive an RA#, Please call 1-800-479-1189 or click here to send us an email. Do not forget to mention your customer number and order number so that we can expedite your request.
All Returns must be received by the Music Den within 10 days of the day you received the RA#.
All shipping costs are the responsibility of the customer and are non-refundable.
The following items cannot be returned: Sheet Music, Books, Reeds, Strings, Harmonicas, Microphones, Clothing, CD's, Videos, DVD's, and Software.
Returned items must be in their original condition and packaging. Returned items not in their original condition will be charged a 15% restocking fee.
Special orders can only be returned at the discretion of a Store Manager with a restocking fee added. All deposits on special orders are non-refundable.
When you ship your item, make sure that your RA# is printed clearly on the outside of the package.
Ship the item to:
The Music Den
1030 Route 10 West
Randolph, NJ 07869
For answers to any questions about our return policy, please call 1-800-479-1189 or click here to send us an email.