Description
Radial JDX 48 Guitar Amplifier Direct Box
Guitar Amp Direct Box
The JDX 48™ is a direct box designed to capture the sound of an electric guitar amplifier by connecting between the amp head and the speaker cabinet, providing a balanced feed for the PA system that sounds like a well-placed microphone on your amp.
Deliver your amp's tone through the PA
The JDX 48 makes it easy to get a consistent and natural amplifier tone through the PA system night after night, by taking a feed directly from your amplifier and employing Radial's popular JDX speaker emulation that produces an effect similar to placing a dynamic microphone in front of a 4x12 half stack cabinet. This gives you a more manageable sound onstage for gigs where feedback is an issue, or if mic'ing your amp isn't an option. For artists that employ in-ear monitoring systems, the JDX 48 provides consistent tone each night in the monitor mix for shorter setup times and a more comfortable audio feed for the artist.
Dual powering options
The JDX 48 can be powered using 48V phantom from the mixing console, for a cleaner setup on stage that eliminates the need to carry a power supply to the gig. However, for times when phantom power may not be available, the JDX 48 also ships with a separate DC power supply - giving you a redundant powering option so you never have to perform without your JDX.
JDX 48 Applications
Using the Radial JDX 48 on guitar
The Radial JDX is connected in between the head and the cabinet where it taps a minute signal off the circuit. The reactive load captures both the sound from the head and the impulse from the cabinet for a more realistic tone.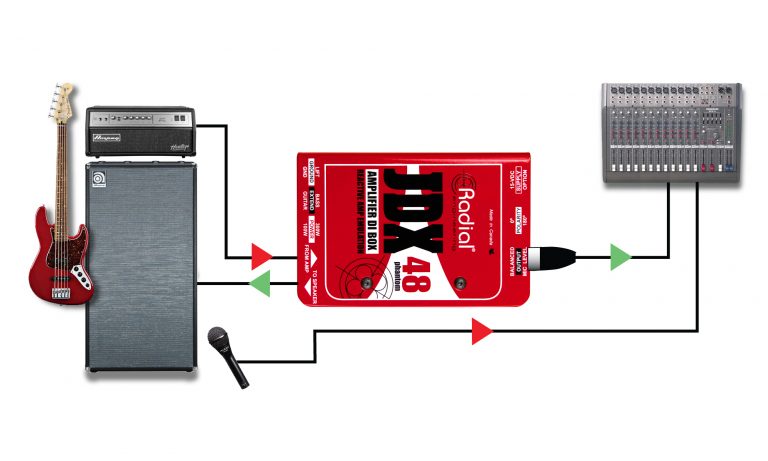 Using the Radial JDX 48 on bass
Bass guitar sounds amazing with the JDX! You get a fat low-mid punch and extra clarity that makes the bass stand out. It truly sounds like you are playing through an SVT with all the grind and drive… yet it is coming through the PA.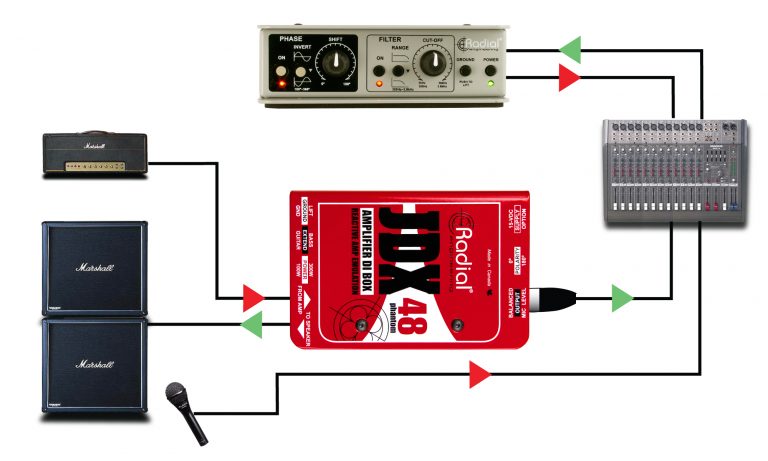 Using the JDX 48 with a mic and the Phazer
For even more fun, combine the direct sound of the JDX with a microphone. Use the Radial Phazer to time-align the two signals and be prepared for the biggest, fattest, most amazing tones ever. Careful… this is addictive!
Delivery & Returns
Shipping Policy
 
Free Shipping- Most orders $50.00 and over ordered from themusicden.com SHIP FOR FREE, but there are two exceptions: Orders that are being shipped to a location that is not in the lower 48 United States will NOT ship for free. Also items marked as "Oversized" will NOT ship free. Those orders will ship using our Standard Shipping rate.
 
Standard Shipping- This is the default shipping method for orders shipping to a US state that is not in the lower 48, such as Hawaii or Alaska, Puerto Rico, or an APO/AE order. Whether an order is shipped USPS or UPS is at The Music Den's discretion depending on what the situation may require.
Orders made through www.themusicden.com will only ship to United States. We are unable to ship internationally.
It may take one to two business days to process an order before it is actually shipped out.
Shipping costs will not be refunded for returns. The buyer must assume all shipping costs when returning an item.
 
School Servicing- Items will be delivered to the school on our next scheduled weekly visit.
 
In-Store Pickups- You can choose to pick items up at our Randolph Store. Please call ahead to make sure that your item is at the store before coming to pick it up. Be prepared to present identification and the purchasing credit card during pickup.
 
Curbside Pickups- Between 10am-5pm, Monday-Friday, you can choose to pick items up at our Randolph Store and have them brought out to you. Please wait for a confirmation email that your item is ready to be picked up. When you arrive you can call the store at 973-927-5800. Be prepared to present identification and the purchasing credit card during pickup.

30 Day Easy Return Guarantee
 
The Music Den wants you to be fully satisfied with your purchase. The Music Den has a cash back return policy for all online returns 30 days from the date of sale. (Note: This does not apply to Reverb. Please see Reverb for their specific policies. For In-store purchases please refer to your receipt.) Please read the items below carefully to ensure that your Item Return is done correctly.
To return an item purchased online from www.themusicden.com, you must notify The Music Den within 30 days from the date of the sale to receive an RA#.
All returns must have an RA# (Return Authorization Number). To receive an RA#, Please call 1-800-479-1189 or click here to send us an email. Do not forget to mention your customer number and order number so that we can expedite your request.
All Returns must be received by the Music Den within 10 days of the day you received the RA#.
All shipping costs are the responsibility of the customer and are non-refundable.
The following items cannot be returned: Sheet Music, Books, Reeds, Strings, Harmonicas, Microphones, Clothing, CD's, Videos, DVD's, and Software.
Returned items must be in their original condition and packaging. Returned items not in their original condition will be charged a 15% restocking fee.
Special orders can only be returned at the discretion of a Store Manager with a restocking fee added. All deposits on special orders are non-refundable.
When you ship your item, make sure that your RA# is printed clearly on the outside of the package.
Ship the item to:
The Music Den
1030 Route 10 West
Randolph, NJ 07869
For answers to any questions about our return policy, please call 1-800-479-1189 or click here to send us an email.