Description
Taylor K14ce Builder's Edition Grand Auditorium w/Case
Builder's Edition K14ce
This stunning Grand Auditorium from our new Builder's Edition collection features Hawaiian koa back and sides paired with a torrefied Sitka spruce top. The guitar was inspired by our groundbreaking V-Class™ bracing, which boosts the volume evenly across the tonal spectrum, increases the sustain, and improves the natural intonation of the guitar by creating a more orderly response from the soundboard. The result is a more harmonious relationship between the notes you play, helping chords sing with cohesive beauty. Another design emphasis of Builder's Edition is enhanced playing comfort in the form of ergonomic new body contours. Details include a beveled armrest, beveled body edge treatment, and a reshaped cutaway that flows smoothly into the heel and incorporates a finger bevel where the cutaway meets the soundboard. This creates a more fluid path to the guitar's upper-register notes for your fretting hand. Other refined touches include "silent" satin finish, which helps quiet the incidental noise against the guitar body, and a gorgeous new Kona burst that highlights the natural beauty of the figured koa back and sides. Inset koa/paua top and back trim adds a beautiful sparkle that complements the new Spring Vine fretboard inlay. In every way, this K14ce acoustic guitar embodies the ultimate player's guitar and testifies to the benefits of innovative craftsmanship.
Features
Discover the features that make this guitar unique
Taylor's signature shape embodies the ultimate all-purpose acoustic.
The soundboard choice for most guitars, Sitka spruce produces a broad dynamic range and accommodates a versatile range of playing styles.
Few woods carry the allure of Hawaiian koa, with its gorgeous figure and sweet, complex tone.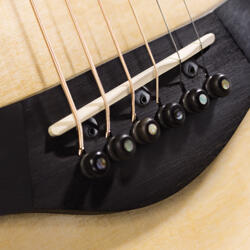 Expression System® 2
Electronics
The Expression System® 2 captures more of a guitar's dynamic properties using a breakthrough behind-the-saddle design.
A smooth, double-contoured cutaway provides easy access to even the highest frets without changing hand positions.
A revolutionary design that balances the flexibility and stability of the top, V-Class bracing produces unmatched sustain, volume, and intonation.
Delivery & Returns
Shipping Policy
 
Free Shipping- Most orders $50.00 and over ordered from themusicden.com SHIP FOR FREE, but there are two exceptions: Orders that are being shipped to a location that is not in the lower 48 United States will NOT ship for free. Also items marked as "Oversized" will NOT ship free. Those orders will ship using our Standard Shipping rate.
 
Standard Shipping- This is the default shipping method for orders shipping to a US state that is not in the lower 48, such as Hawaii or Alaska, Puerto Rico, or an APO/AE order. Whether an order is shipped USPS or UPS is at The Music Den's discretion depending on what the situation may require.
Orders made through www.themusicden.com will only ship to United States. We are unable to ship internationally.
It may take one to two business days to process an order before it is actually shipped out.
Shipping costs will not be refunded for returns. The buyer must assume all shipping costs when returning an item.
 
School Servicing- Items will be delivered to the school on our next scheduled weekly visit.
 
In-Store Pickups- You can choose to pick items up at our Randolph Store. Please call ahead to make sure that your item is at the store before coming to pick it up. Be prepared to present identification and the purchasing credit card during pickup.
 
Curbside Pickups- Between 10am-5pm, Monday-Friday, you can choose to pick items up at our Randolph Store and have them brought out to you. Please wait for a confirmation email that your item is ready to be picked up. When you arrive you can call the store at 973-927-5800. Be prepared to present identification and the purchasing credit card during pickup.

30 Day Easy Return Guarantee
 
The Music Den wants you to be fully satisfied with your purchase. The Music Den has a cash back return policy for all online returns 30 days from the date of sale. (Note: This does not apply to Reverb. Please see Reverb for their specific policies. For In-store purchases please refer to your receipt.) Please read the items below carefully to ensure that your Item Return is done correctly.
To return an item purchased online from www.themusicden.com, you must notify The Music Den within 30 days from the date of the sale to receive an RA#.
All returns must have an RA# (Return Authorization Number). To receive an RA#, Please call 1-800-479-1189 or click here to send us an email. Do not forget to mention your customer number and order number so that we can expedite your request.
All Returns must be received by the Music Den within 10 days of the day you received the RA#.
All shipping costs are the responsibility of the customer and are non-refundable.
The following items cannot be returned: Sheet Music, Books, Reeds, Strings, Harmonicas, Microphones, Clothing, CD's, Videos, DVD's, and Software.
Returned items must be in their original condition and packaging. Returned items not in their original condition will be charged a 15% restocking fee.
Special orders can only be returned at the discretion of a Store Manager with a restocking fee added. All deposits on special orders are non-refundable.
When you ship your item, make sure that your RA# is printed clearly on the outside of the package.
Ship the item to:
The Music Den
1030 Route 10 West
Randolph, NJ 07869
For answers to any questions about our return policy, please call 1-800-479-1189 or click here to send us an email.