Description
Korg NTS-1 Programmable DIY Synthesizer Kit
Build it, tweak it, connect it; a world of synthesis at your fingertips!
Korg is always creating new ways to experience hands-on, fun music-making.
Now, you can too.

The Nu:Tekt NTS-1 digital KIT is a unique, flexible, and easy DIY synthesizer that you can easily assemble yourself (tool included), without any soldering.

The first of its kind from KORG's DIY-focused Nu:Tekt brand, NTS-1 packs a powerful synth and multi-effects engine into a compact and highly portable form factor. Its DIY nature means it's also very customizable. Explore the possibilities!

NTS-1 is also completely compatible with the logue-SDK*, making it possible to create custom oscillators and effects or upload any of the content available for minilogue xd and prologue.
A wide range of sonic possibilities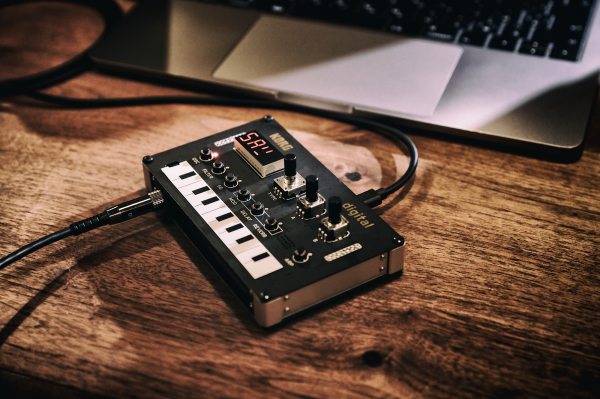 Belying its size, the Nu:Tekt NTS-1 features a digital oscillator inspired by the MULTI engine as found on the acclaimed prologue and minilogue xd, along with an extremely capable arpeggiator including multiple ranges, scales, and modes, plus dedicated spatial, modulation, and delay sections, each with multiple settings to explore.

With a single monophonic digital oscillator, one multimode filter, on EG, three LFOs, three stereo effect processors, and full arpeggiator, the NTS-1 is a very powerful, flexible, fun-to-explore synth.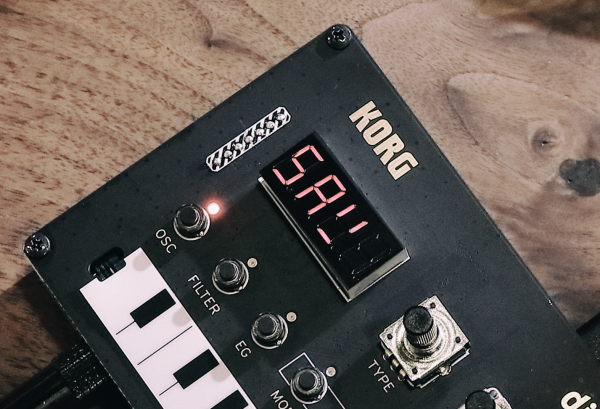 The main oscillator can produce Sawtooth, Triangle, Square and VPM waveforms, and can load custom oscillators created from Korg's logue SDK, which means it's compatible with content created for prologue and minilogue xd. These waveforms can be easily re-shaped and adjusted just by simply turning a couple of knobs.

A wide selection of filters (Low pass 2/4-pole, High pass 2/4-pole, Band pass 2/4-pole and OPEN mode, all with resonance) give you serious control over the overall tone of the oscillator.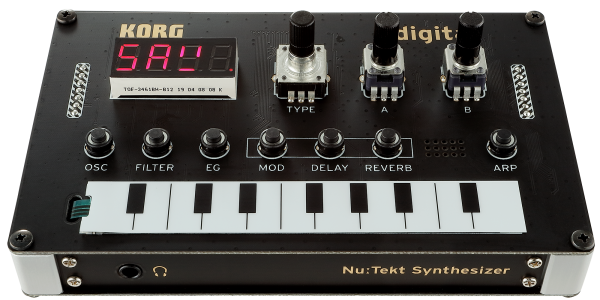 The three onboard effects units are inspired by those on KORG's minilogue xd, which itself took onboard effects to a whole new level. Numerous reverbs, modulation effects, and delays are available to blend and edit at will, to really finish out your sound creations.

NTS-1 also offers a fun and practical arpeggiator with several patterns available. Scales and numerous note orders including a Random mode are also available to create new and original ideas on the fly. The pattern length can be adjusted (from 1 to 24 steps) and, when synced externally, the step duration can also be adjusted (16th to 64th notes)

Thanks to its ribbon controller, simple interface and display, the NTS-1 can be played and enjoyed very intuitively. Deeper parameter changes are also possible with several combinations of buttons / knobs, furthering the possibilities. Don't let its size fool you; NTS-1 goes deep but keeps it all easily accessible.
Delivery & Returns
Shipping Policy
 
Free Shipping- Most orders $50.00 and over ordered from themusicden.com SHIP FOR FREE, but there are two exceptions: Orders that are being shipped to a location that is not in the lower 48 United States will NOT ship for free. Also items marked as "Oversized" will NOT ship free. Those orders will ship using our Standard Shipping rate.
 
Standard Shipping- This is the default shipping method for orders shipping to a US state that is not in the lower 48, such as Hawaii or Alaska, Puerto Rico, or an APO/AE order. Whether an order is shipped USPS or UPS is at The Music Den's discretion depending on what the situation may require.
Orders made through www.themusicden.com will only ship to United States. We are unable to ship internationally.
It may take one to two business days to process an order before it is actually shipped out.
Shipping costs will not be refunded for returns. The buyer must assume all shipping costs when returning an item.
 
School Servicing- Items will be delivered to the school on our next scheduled weekly visit.
 
In-Store Pickups- You can choose to pick items up at our Randolph Store. Please call ahead to make sure that your item is at the store before coming to pick it up. Be prepared to present identification and the purchasing credit card during pickup.
 
Curbside Pickups- Between 10am-5pm, Monday-Friday, you can choose to pick items up at our Randolph Store and have them brought out to you. Please wait for a confirmation email that your item is ready to be picked up. When you arrive you can call the store at 973-927-5800. Be prepared to present identification and the purchasing credit card during pickup.

30 Day Easy Return Guarantee
 
The Music Den wants you to be fully satisfied with your purchase. The Music Den has a cash back return policy for all online returns 30 days from the date of sale. (Note: This does not apply to Reverb. Please see Reverb for their specific policies. For In-store purchases please refer to your receipt.) Please read the items below carefully to ensure that your Item Return is done correctly.
To return an item purchased online from www.themusicden.com, you must notify The Music Den within 30 days from the date of the sale to receive an RA#.
All returns must have an RA# (Return Authorization Number). To receive an RA#, Please call 1-800-479-1189 or click here to send us an email. Do not forget to mention your customer number and order number so that we can expedite your request.
All Returns must be received by the Music Den within 10 days of the day you received the RA#.
All shipping costs are the responsibility of the customer and are non-refundable.
The following items cannot be returned: Sheet Music, Books, Reeds, Strings, Harmonicas, Microphones, Clothing, CD's, Videos, DVD's, and Software.
Returned items must be in their original condition and packaging. Returned items not in their original condition will be charged a 15% restocking fee.
Special orders can only be returned at the discretion of a Store Manager with a restocking fee added. All deposits on special orders are non-refundable.
When you ship your item, make sure that your RA# is printed clearly on the outside of the package.
Ship the item to:
The Music Den
1030 Route 10 West
Randolph, NJ 07869
For answers to any questions about our return policy, please call 1-800-479-1189 or click here to send us an email.