Description
Korg Vulca NuBass Vacuum Tube Synthesizer
Powerful and versatile bass synthesis with a sound source based around a vacuum tube oscillator.
Even today, when digital technology allows electronic musical instruments to simulate any sound imaginable, the warm harmonics and distortion produced by analog vacuum tubes is still sought after. This distinctive sound has a quality beyond words that sets it apart, and cannot be captured by a response curve; it's the unmistakable sound of tubes.

The volca nubass is the first analog synth to be equipped with a Nutube new-generation vacuum tube in its oscillator circuit. By incorporating a vacuum tube, nubass produces a warm, thick, and rich sound, unlike any digital or transistor-based synthesizer. The familiar transistor ladder filter along with overdrive, and huge-sounding distortion, gives it the unmistakable character of a classic bass machine. Coupled with an LFO with flexible routing and sync, nubass also provides numerous possibilities for a new generation of music.

A truly unique bass machine for both classic and new sounds, with the power of modern synthesizer design. It's the volca nubass.
The fusion of a newly developed vacuum tube oscillator with a classic ladder filter
A vacuum tube oscillator circuit forms the heart of volca nubass, utilizing groundbreaking Nutube technology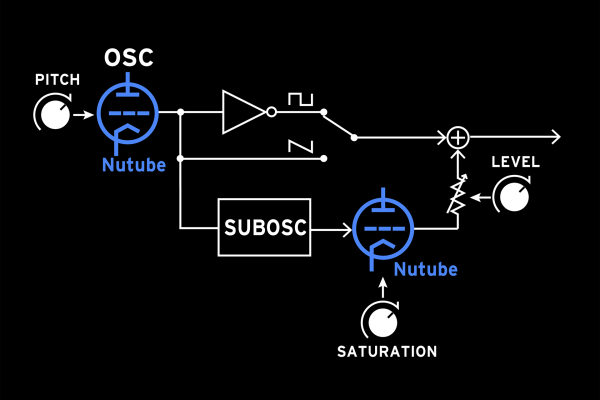 The Nutube is equipped with two vacuum tubes; one is used in the oscillator to generate a sawtooth wave or square wave. The other vacuum tube is used in the drive circuit of the sub oscillator, adding depth and warmth one octave below the oscillator. This oscillator and sub oscillator provide a circuit structure that brings out the harmonic character that only a real vacuum tube could provide.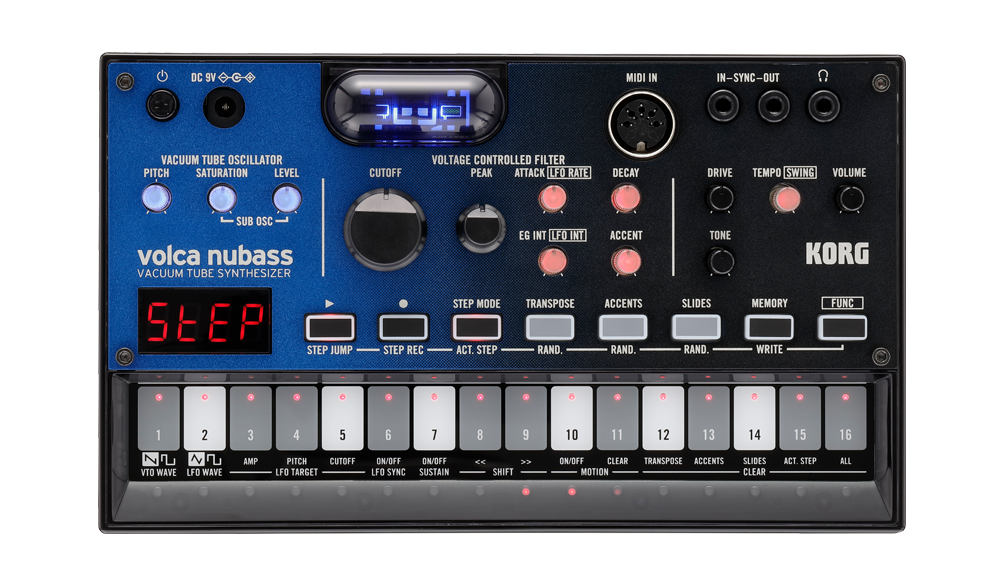 A transistor ladder low-pass filter that produces a distinctive sound
The low-pass filter defines the sound of this bass machine; it uses a transistor ladder design found on classic analog bass synths. This filter is uniquely dynamic in the way it affects a sound more than just ranging from bright-to-dark. Its wide range of timbral possibilities makes it ideal for a broad variety of dance music; you can use it to create the distinctive modulation that can be heard in acid house, or increase the resonance to bring out a sharp character that's appropriate for techno.
Analog driver circuit
nubass is equipped with overdrive that uses an analog circuit reminiscent of a classic stompbox. Turning the knob toward the right compresses the volume while causing mild distortion, adding thickness to your bass sounds. The tone knob also lets you adjust the crispness of the high-frequency range.
volca sequencer makes performing and composing simple and intuitive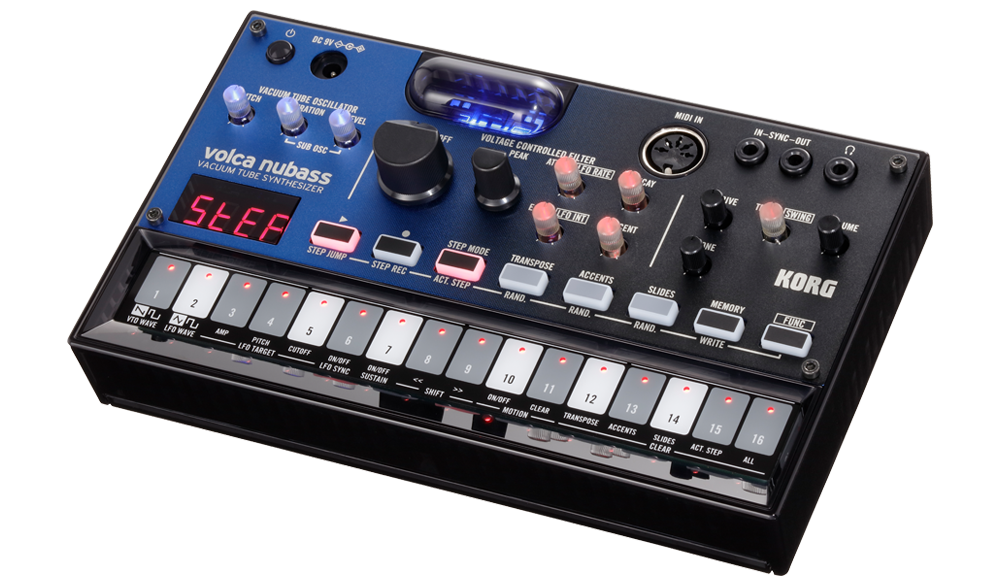 A 16-step sequencer that lets you automate parameters
The volca nubass is equipped with a full-fledged 16-step sequencer with a variety of functionality; by using it in conjunction with a rhythm machine, you can construct rhythm tracks or loop music.

You can use the 16 buttons for step input just like the rest of the volca series, or play the buttons as a keyboard for realtime recording. The chain function lets you play back multiple sequence patterns in succession, allowing you to loop up to 16 sequences.

The motion sequence function can record knob movements, applying parameter changes over time to the sound. This can be used when creating loops, or for live performances that are dynamic and original. Up to 16 sequence patterns together with motion sequences can be saved in internal memory.

There's also an active step function that lets you skip steps that you specify during playback; sequence patterns become more dynamic and exciting when they can be edited in real time during performances.
Three functions to create grooves on volca nubass
The sequencer of the volca nubass provides three functions that add the slap and slide performance techniques that are distinctive of acid bass: these transpose, accent, and slide functions are accessible and controllable through the step sequencer.

Transpose is a function that plays a note one or two octaves higher; it adds movement to the bass line while staying within the original scale. Accent emphasizes a note, creating dynamics that make the rhythm expressive. And the slide function that's indispensable to acid sound creates a smooth transition to the next note. Use these functions to add a sense of groove, and volca nubass will come alive in your performances and compositions.

Randomize settings can be applied to each of these three functions. In addition to generating unpredictable patterns, you can update the randomize settings to keep varying the patterns, bringing out more unexpected and exciting ideas from the sequencer.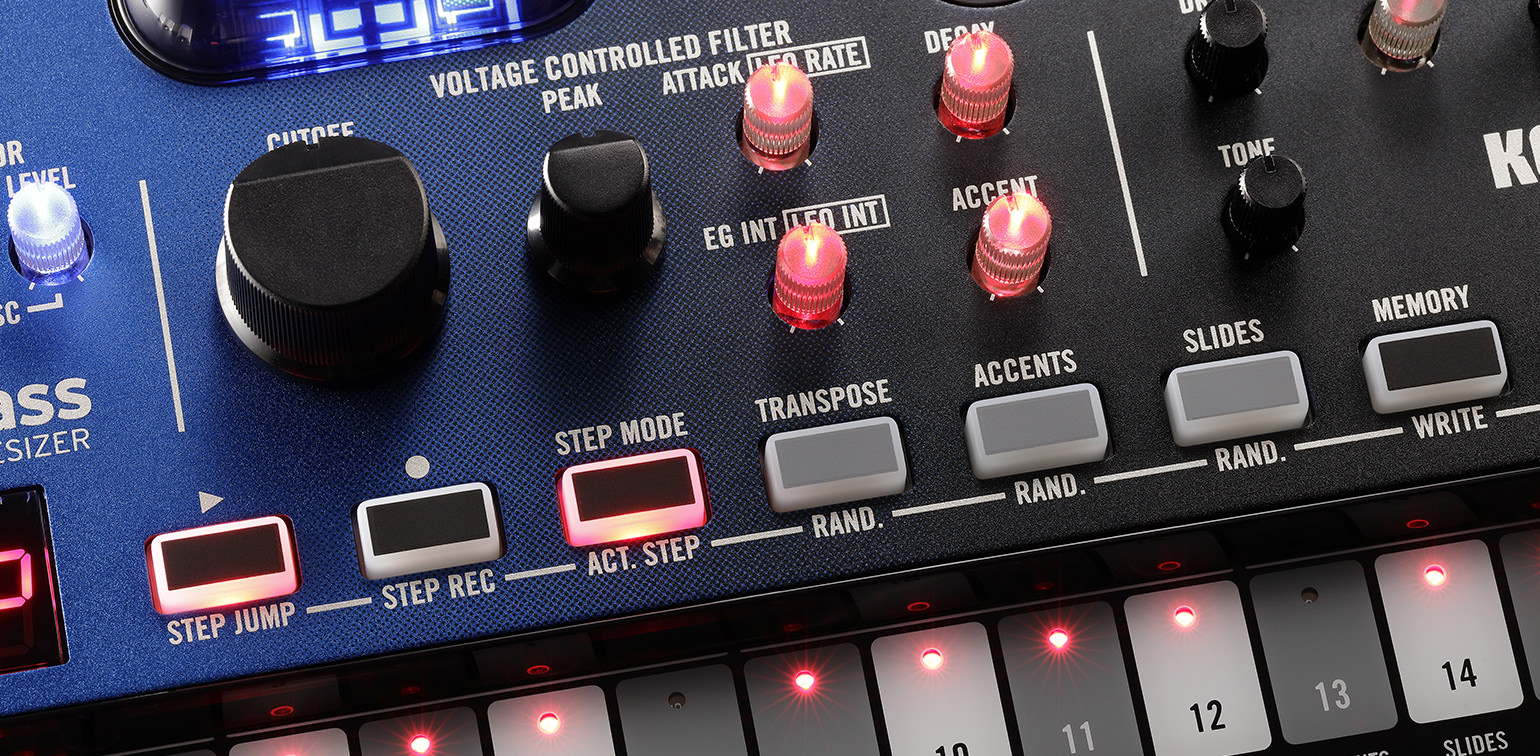 Connectors that allow synchronized performance and external control
Since this unit provides a sync jack for easy connection to Korg groove machines, you can connect it to another volca series unit or to equipment such as an electribe or the SQ-1, and enjoy synchronized playback with the sequencer. There's also a standard MIDI IN connector, so you can use the volca nubass as a sound module for your DAW.
Enjoy anywhere
Compact, size, battery operation, and built-in speaker mean that you can take this unit anywhere and enjoy playing on the go.
Delivery & Returns
Shipping Policy
 
Free Shipping- Most orders $50.00 and over ordered from themusicden.com SHIP FOR FREE, but there are two exceptions: Orders that are being shipped to a location that is not in the lower 48 United States will NOT ship for free. Also items marked as "Oversized" will NOT ship free. Those orders will ship using our Standard Shipping rate.
 
Standard Shipping- This is the default shipping method for orders shipping to a US state that is not in the lower 48, such as Hawaii or Alaska, Puerto Rico, or an APO/AE order. Whether an order is shipped USPS or UPS is at The Music Den's discretion depending on what the situation may require.
Orders made through www.themusicden.com will only ship to United States. We are unable to ship internationally.
It may take one to two business days to process an order before it is actually shipped out.
Shipping costs will not be refunded for returns. The buyer must assume all shipping costs when returning an item.
 
School Servicing- Items will be delivered to the school on our next scheduled weekly visit.
 
In-Store Pickups- You can choose to pick items up at our Randolph Store. Please call ahead to make sure that your item is at the store before coming to pick it up. Be prepared to present identification and the purchasing credit card during pickup.
 
Curbside Pickups- Between 10am-5pm, Monday-Friday, you can choose to pick items up at our Randolph Store and have them brought out to you. Please wait for a confirmation email that your item is ready to be picked up. When you arrive you can call the store at 973-927-5800. Be prepared to present identification and the purchasing credit card during pickup.

30 Day Easy Return Guarantee
 
The Music Den wants you to be fully satisfied with your purchase. The Music Den has a cash back return policy for all online returns 30 days from the date of sale. (Note: This does not apply to Reverb. Please see Reverb for their specific policies. For In-store purchases please refer to your receipt.) Please read the items below carefully to ensure that your Item Return is done correctly.
To return an item purchased online from www.themusicden.com, you must notify The Music Den within 30 days from the date of the sale to receive an RA#.
All returns must have an RA# (Return Authorization Number). To receive an RA#, Please call 1-800-479-1189 or click here to send us an email. Do not forget to mention your customer number and order number so that we can expedite your request.
All Returns must be received by the Music Den within 10 days of the day you received the RA#.
All shipping costs are the responsibility of the customer and are non-refundable.
The following items cannot be returned: Sheet Music, Books, Reeds, Strings, Harmonicas, Microphones, Clothing, CD's, Videos, DVD's, and Software.
Returned items must be in their original condition and packaging. Returned items not in their original condition will be charged a 15% restocking fee.
Special orders can only be returned at the discretion of a Store Manager with a restocking fee added. All deposits on special orders are non-refundable.
When you ship your item, make sure that your RA# is printed clearly on the outside of the package.
Ship the item to:
The Music Den
1030 Route 10 West
Randolph, NJ 07869
For answers to any questions about our return policy, please call 1-800-479-1189 or click here to send us an email.