Description
Korg Minilogue XD Polyphonc Analogue Synthesizer 37 Key
An evolved next-generation analog synthesizer with huge potential for sound design and performance.
We wanted to deliver a next-generation analog synthesizer for a new generation of musicians new to analog synthesis. That dream was realized in the development of the minilogue, which instantly made the analog synthesizer approachable.

In addition to emphasizing the same real analog sound and joy of controlling an electronic musical instrument offered by the original minilogue, the minilogue xd newly adds a digital multi-engine, effects, a powered-up sequencer, and micro tuning functionality, further expanding the possibilities for sound design and performance potential.

minilogue xd is a fitting addition to the original groundbreaking minilogue.
Analog synthesizer circuit that shatters expectations for its class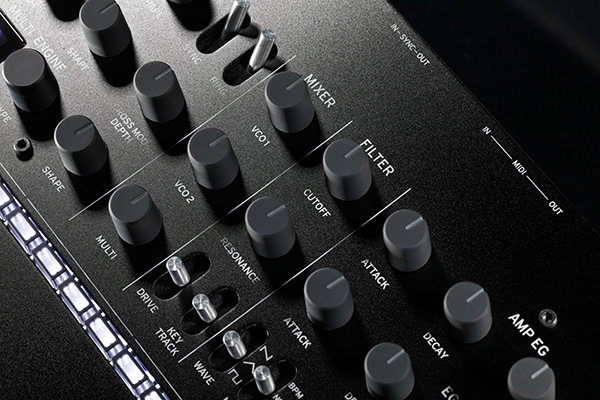 Four-voice polyphonic analog synthesis. The analog synthesizer circuit of the minilogue, whose genuine analog sound had a huge impact on the synth world, has been further developed for the minilogue xd.

Voice structure of minilogue xd is 2VCO + MULTI ENGINE, 1VCF, 2EG, 1VCA, and 1LFO. In addition to the distinctive circuits found in the series, such as wave shaping to shape the overtones of the oscillator and a sync/ring switch, there's also cross modulation, a sharp two-pole filter, and a drive switch that adds thickness and drives signal into minilogue xd's filter. Every parameter has been tuned in detail based on what musicians want out of their synth. The sounds range from the warm pads typical of analog to fat basses and crisp lead sounds, covering every situation.

Of course, programs that you create can also be saved in the unit. Out of the box, minilogue xd comes loaded with 200 presets, and a total of 500 programs can be saved.
Equipped with a digital multi-engine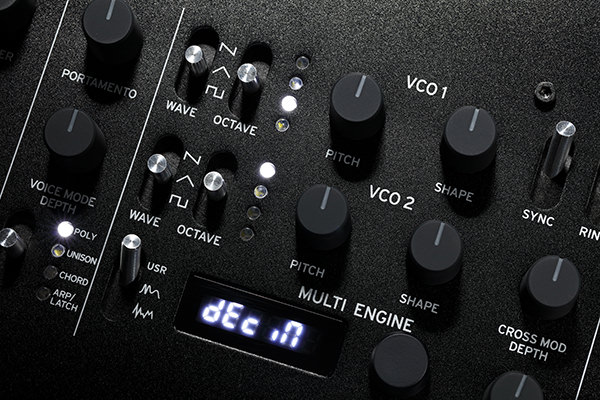 The additional sound design possibilities of digital sound are delivered by the multi-engine that's provided as a third oscillator in addition to the two analog VCOs. This engine, which is equipped with three different types of sound generator (noise, VPM, and user slot) lets you take advantage of a sonic character that's different than analog, and use it at the same time as the analog engine, infinitely expanding the potential of hybrid sound design.
Noise generator
The noise generator provides four types of noise that are indispensable for percussive sounds or for sound effects. You can use the digital filter to directly change the color of the noise.
VPM oscillator
minilogue xd's multi-engine features a VPM (Variable Phase Modulation)/FM oscillator with a two-operator structure. It can produce sharp, metallic sounds with complex overtones beyond the possibilities offered by analog systems. With 16 types of oscillator and a SHAPE knob control, you'll be able to create complex sounds intuitively.
User oscillators
User oscillators allow you to load your own oscillator programs that you created or obtained via the internet. There are 16 user slots, as well as one type of morphing wavetable oscillator provided as a preset.
High-quality digital effects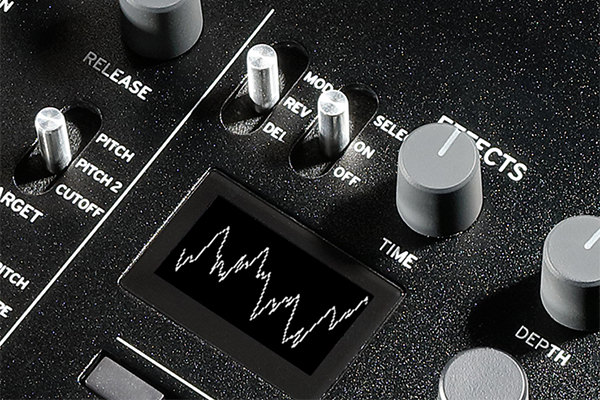 minilogue xd's high-quality digital effects use 32-bit floating point DSP processing, adding a finishing touch to its deep sound design platform. The three types (modulation effects, reverb, and delay) can be used simultaneously, letting you choose from a wide range of variations including chorus, ensemble, warm tape delay, and a diverse variety of reverb. The user effect slots allow you to load your own effect programs that you've created.
User customization brings out infinite potential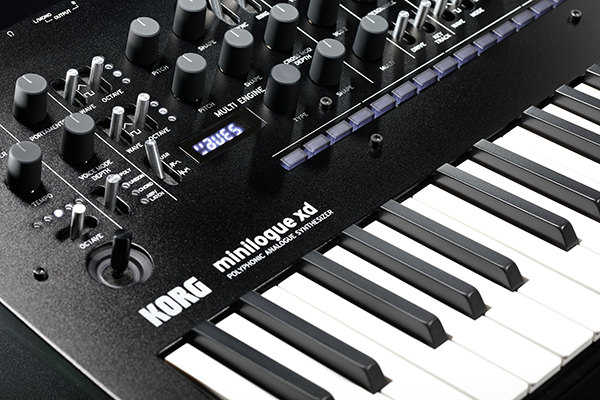 The minilogue xd features a customizable open environment. The unit comes with 16 user oscillator slots and 16 user effect slots that you can customize. Oscillators and user programs that you've created with the SDK (Software Development Kit) can be loaded into the minilogue xd via the dedicated librarian software.

What sounds might arise from the fusion of the expanded digital oscillators with analog synthesis? Create original programs, share code, and participate in the user community. You can start with sample code provided by KORG.
Delivery & Returns
Shipping Policy
 
Free Shipping- Most orders $50.00 and over ordered from themusicden.com SHIP FOR FREE, but there are two exceptions: Orders that are being shipped to a location that is not in the lower 48 United States will NOT ship for free. Also items marked as "Oversized" will NOT ship free. Those orders will ship using our Standard Shipping rate.
 
Standard Shipping- This is the default shipping method for orders shipping to a US state that is not in the lower 48, such as Hawaii or Alaska, Puerto Rico, or an APO/AE order. Whether an order is shipped USPS or UPS is at The Music Den's discretion depending on what the situation may require.
Orders made through www.themusicden.com will only ship to United States. We are unable to ship internationally.
It may take one to two business days to process an order before it is actually shipped out.
Shipping costs will not be refunded for returns. The buyer must assume all shipping costs when returning an item.
 
School Servicing- Items will be delivered to the school on our next scheduled weekly visit.
 
In-Store Pickups- You can choose to pick items up at our Randolph Store. Please call ahead to make sure that your item is at the store before coming to pick it up. Be prepared to present identification and the purchasing credit card during pickup.
 
Curbside Pickups- Between 10am-5pm, Monday-Friday, you can choose to pick items up at our Randolph Store and have them brought out to you. Please wait for a confirmation email that your item is ready to be picked up. When you arrive you can call the store at 973-927-5800. Be prepared to present identification and the purchasing credit card during pickup.

30 Day Easy Return Guarantee
 
The Music Den wants you to be fully satisfied with your purchase. The Music Den has a cash back return policy for all online returns 30 days from the date of sale. (Note: This does not apply to Reverb. Please see Reverb for their specific policies. For In-store purchases please refer to your receipt.) Please read the items below carefully to ensure that your Item Return is done correctly.
To return an item purchased online from www.themusicden.com, you must notify The Music Den within 30 days from the date of the sale to receive an RA#.
All returns must have an RA# (Return Authorization Number). To receive an RA#, Please call 1-800-479-1189 or click here to send us an email. Do not forget to mention your customer number and order number so that we can expedite your request.
All Returns must be received by the Music Den within 10 days of the day you received the RA#.
All shipping costs are the responsibility of the customer and are non-refundable.
The following items cannot be returned: Sheet Music, Books, Reeds, Strings, Harmonicas, Microphones, Clothing, CD's, Videos, DVD's, and Software.
Returned items must be in their original condition and packaging. Returned items not in their original condition will be charged a 15% restocking fee.
Special orders can only be returned at the discretion of a Store Manager with a restocking fee added. All deposits on special orders are non-refundable.
When you ship your item, make sure that your RA# is printed clearly on the outside of the package.
Ship the item to:
The Music Den
1030 Route 10 West
Randolph, NJ 07869
For answers to any questions about our return policy, please call 1-800-479-1189 or click here to send us an email.